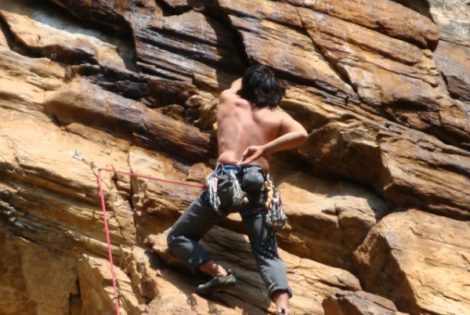 Working throughout the week in office or any work place makes people tiresome and monotonous. To refresh the mind and body we make them connect with nature by organizing weekend rock climbing trip around Kathmandu valley. After completing day rock climbing trip, participants  feel more energetic and discharge their duties and responsibilities with good impacts and better outcomes. And this trip has become very popular among the corporate people , bankeers, students and  office personel. It also helps in connecting the new people and promoting friendship as well as building up team spirit among the participants.
Rock Climbing Sites in Nepal 
Rock climbing in Kathmandy valley – There are several artificial sport climbing center in Kathmandu valley such as Pasang Lhamu sport climbing center at Dhumbarahi, Balaju sport climbing center Balaju industrial area, Astrek sport climbing center Thamel and NMA sport climbing center Kakani just north west of Kathmandu one hour drive form city. As well as well equipped natural rock climbing cliff arround Kathmandu valley hills such as  Chiple and rato paharo at Farping south from Kathmandu just one hour drive.  Raniban cliff Shivapuri Nagarjun national park area west from Kathmandu valley just 20 minutes drive.
Rock climbing in Everest region –  In Khumbu there are several equipped natural rock climbing spot such as rock climbing site in Lukla the  gate way of Mt. Everest, Khumjung rock climbing site, Thamo rock climbing site and Thame rock climbing site.
Rock climbing in Bimal Nagar Tanahu – There is several well equipped multipitch rock climbing route in Bimal Nagar, Tanahu just 70km west from Kathmandu toward Bandipur most popular tourist distination of Nepal.
Rock climbing in Pokhara valley – Pokahra is the most popular tourist district of Nepal. There is NMA sport climbing and bouldering center at International Mountain Museum. As well as Three sister natural rock climbing center 30 minutes walk from Lake side.
Himalayan Climbing & Mountaineering School (HCMS) Pvt. Ltd. © 2021. All rights reserved.