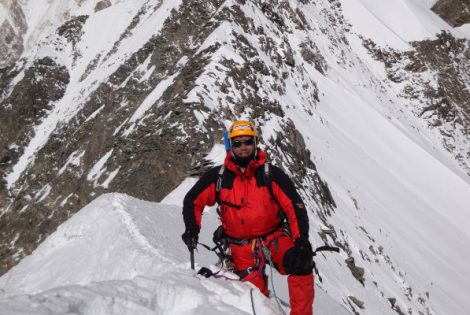 Pemba Gyalje Sherpa, one of the most revered Nepalese Mountain Guide and Climber, is the Founder of Himalayan Climbing and Mountaineering School (HCMS) based in Kathmandu, Nepal. Pemba has climbed Everest 7 times, Cho Oyu 3 times and K2 once. He is also an author, educator, motivational speaker and strong advocate of mountain safety.
Early Life
Pemba was born on Feb 22nd 1973 in a rural farming village called Pangkhoma in Solukhumbu located 55km south of Mt. Everest, the highest mountain on earth. He was born to simple farmers who worked hard every day from the dawn to dusk to support their 10 children. Pemba is the eldest of the 10 siblings and assumed family responsibility from tender age by lending hands to parents in farm works as well as taking care of younger siblings while the mother attended kitchen chores. Pemba's parents were relentless workers and instilled high moral values and work ethics to the kids. When trekking started in Nepal, Pemba's father would occasionally work as a local mountain guide and mother spent her time as a caretaker and housewife while tending the farms.  Pemba did not have the privilege and reach of the elites growing up, but was able to climb up the ladder and has established himself in the pinnacle of not just Nepal but the world's who-is-who domain among acclaimed Climbers and Mountain Guides with sheer hard work, dedication and passion as a professional Mountain Guide, Instructor, Savior in the mountains of Nepal and Pakistan. He has been dubbed as "The Tiger of Death Zone" by some, but Pemba is the epitome of humility and modesty, according to many close friends and acquaintances.
The Salt Excursion – Pemba's first steps to glorious future journeys
When he was just 14 years old, he got his first adventure with few other villagers and set his foot out for an 8-day voyage to fetch 15-20kg sack of salt rocks from Jiri, the nearest town connected by road transportation but several days walk from his village. It was during this "Salt Excursion" he was able to follow the lifestyle of journeymen for whom the purpose of travel was not a recreational trekking or hiking but to bring salt stocks enough for several months for the family. Since travelling in monsoon would pose threats for life because of treacherous and slippery trails infested with blood sucking leeches and dangeroulsy swelling streams without bridges such excursion were carried out during favorable weather.  However, the adventure was no lesser than what the modern mountaineers face in alpine terrains. At times, he had to sleep with accompanying villagers in riverbanks, caves, under the trees in open sky with bears and leopards in the vicinity and small smoky tea-houses. He could hear the villagers talking about their travelling experience and in a way, he loved these adventurous conversations and meeting strangers.
Living a farm life without modern facilities, no running water and no electricity is certainly not comfortable but comfortable in the sense when it was compared to the life and experience on the trail to Jiri. For curious young Pemba, the pleasure of travel experience was much more prevalent than lodging and accommodation even though they were less comfortable than being at his family home.  In Jiri, he had the first encounter with a motor vehicle and it was a conspicuous one as he would run away upon the start of a engine that roared and trembled at the same time. Some of the accompanying villagers had come to Jiri to catch bus for the onward journey to capital-Kathmandu and he wished he could also follow them to see the biggest city in Nepal. However, he had to return to Pangkhoma with his sack of heavy salt, an edible goldmine for his family and the villagers of high altitude. Being rejuvenated, Pemba returned to his village full of excitement in pursuit of future adventures in the mountains.
Pemba's father and his generation witnessed Tenzing Norgay and Sir Edmund Hillary setting foot on Everest and it was a feat no less than Neil Armstrong stepping on the Moon in 1969. The event revolutionized the perception of Mountains which at that time were more revered and less climbed. The first successful ascent by Tenzing and Hillary changed the dynamic of Nepalese Mountain Culture, landscapes and contributed to the biggest socio-economic changes in some of the highest and inhabitable places the country had ever seen. It also opened doors for visitors coming to Nepal and natives travelling abroad with increase in tourism and research-related trekking and adventure.
Pemba grew up during the time of significant transformation in the mountains with tourist activities only to realize that if there was one thing he was born for, it was to be part of this ever changing revolutionary transformation and make his own mark in the Mountaineering world as a responsible and trusted mountain guide, fearless rescuer and a considerate but highly effective instructor with realistic approach and practical methods.  Pemba met Hillary in several occasions while a Primary School construction was ongoing in his village, a project supported by Sir Edmund Hillary to improve standards of schools and make it easily accessible for the local kids in remote Khumbu villages. Pemba cheerfully volunteered carrying rocks and stones utilized for the construction of school building. Pemba was very much inspired by the presence of Sir Edmund Hillary, who was not only the talk of the town but also the whole world to be honest.
Tenzing and Hillary did not stop after their ascent to the top of the world. They shifted their focus in areas much lower with deeds much higher than Everest to elevate the life and livelihood of the locals. Highly motivated Pemba took that to his heart and soul. From the very beginning, he not only wished to be a great Mountain Guide but also made commitments to leave mark as a caring, compassionate human and a family man to be an element of change for the benefits of Nepalese Mountaineering Community.
Education and Training
Pemba values learning and development as a continuous process and still considers himself a student of Mountains. Pemba started his adventurous career as a porter soon after finishing the High School at the age of 14. He never missed the training opportunities while working with expeditions – a choice very difficult for an elder son in the family who naturally bears the responsibilities to ensure all household and farming needs were taken care of. He could have easily blended with some youths in the village who enjoyed chasing skirts, playing cards and smoking joints or sipping traditionally brewed alcohol in the local saloons, but instead, Pemba chose to dedicate himself for the family and explored opportunities to enhance his Mountaineering skills, which he still continues to pursue.
Pemba is a Certified International Federation of Mountain Guide Association (IFMGA) Guide, Trainer & Instructor with Leadership skills. Pemba has extensively traveled the world in different roles as a renowned Climber, Rescuer, Mountain Guide and a Leader of an Association to attend training, workshop & seminar and global mountaineering events. He is involved in numerous mountaineering activities and coordinates training and mentoring events to develop skills as well as raise awareness of safety and security in the mountains to aspiring trekking guides, mountain guides, athletes and government officials.
Professional Background as Mountain Guide & Rescuer
Pemba had a humble career start as a porter but soon assumed different responsibilities as a support staff, kitchen boy, climbing Sherpa, climbing guide and Sirdar in the span of 10 years. He has climbed Everest 7 times, K2 Once and Cho Oyu 3 times among the 8000 m mountains. He has more than 50 ascent experience of mountains above 5500 meters in Nepal and 27 notable peaks as well as numerous rock climbing in the European Alps. Please click Pemba's Resume for more details to learn about his peak climbing.
In August 2nd 2008, while descending from K2 summit, climbers from various expeditions including Dutch Expedition Norit, of which Pemba was a climbing member, met with a tragic accident that killed 11 climbers. Pemba spent more than 90 hrs in the death zone without food, water and supplemental oxygen rescuing injured climbers. It was one of the darkest days in the history of Mountain Climbing that claimed many lives but luckily spared Pemba and few others. Pemba valiantly defied death and managed to save others by safely bringing them to the base camp where medical assistance was available. Although Pemba had voluntarily rescued many climbers in Everest and Cho-Oyu before and after the tragic event of K2 disaster, it was one of the most recognized rescue efforts ever by a Mountain Guide. This event also propelled Pemba's image as a fearless savior throughout the world. He was the face of National Geographic as the Adventurer of the Year and received numerous awards and honors for the act of selflessness. Pemba also has impeccable professional climbing record. He credits tireless training efforts and investment of time and money seeking opportunities to learn and develop modern mountaineering, safety and security skills required not just to be a good mountain guide, but also a safe climber.
In his own words, "With good preparation, training and with an understanding of your body and mind, climbing is possibly one of the best things you can do."  Pemba Gyalje Sherpa
Institutional Affiliation
The more he traveled and learned, the more he instilled himself the sense of responsibility to return back and make contributions for the Mountaineering Fraternity as well as the community. He was able to identify certain weakness and deficiencies in the Nepalese system which impedes the pace of progress in Adventure Climbing and Mountaineering and wants to rectify them with hard work-ethic and consistency for improvement without worryng about the outcome. The professional mountaineering community of Nepal has seen recent trend of brain drain through migration of trained and skilled workforce to developed part of the world and the rigid old mentality has to change to stop this. Such exodus leaves room for damaging vacuum in workforce and creates opportunities for weak leadership when some of the best leave the country in pursuit of better life elsewhere.  Pemba, expresses disappoinment of such trends and is outspoken and straightforward in addressing these issues to the Government officials and leaders of various associations having stake in Nepal's Mountaineering Industry.
Pemba currently serves as an Executive Board Menber and Director of Training at the Nepal Mountain Academy (NMA), a government development committee under the Ministry of Culture, Tourism and Civil Aviation. He is also the founder, Past President and Past Chief of Educational Program at Nepal National Mountain Guide Association (NNMGA), Founding Member and active instructor at Nepal Mountaineering Instructor Association (NMIA), Executive Board Member and Training Coordinator at Pasang Lhamu Mountaineering  Foundation and Director of Training and Guides at Search and Rescue Organization Nepal (SARON).
The above mentioned Government and Non Profit organizations are undergoing dramatic change and growths to elevate the industry standard. Pemba has succeeded in applying rigorous analytical approach in strategic planning and development. He is a proven leader in fast growth cycles, intensely competitive industries, and organization facing major restructuring with ability to provide solution and support to executive team facing urgent marketplace challenges in Trekking, Climbing, Mountaineering and Adventure Climbing Sports to promote Mountain Tourism in Nepal as listed below:
•         Training & Development of Skilled workforce.
•         Market Analysis / Business Development
•         Corporate Development
•         Strategic and Tactical Planning
•         New Product Development / Launches
•         Market Research / Market Forecasts
•         Alliances, Joint Ventures & Partnerships
•         Cross-Functional Team Leadership
Social Contribution
Pemba likes to give back to the community and supports construction of Monasteries, Schools, trekking trails etc. As a problem solver who does not wait for others to start for works that benefits the community, even while trekking or climbing, he quickly lends his hands if something needs to be fixed or someone needs a helping hand. Pemba does not limit his time while counseling, mentoring and motivating the youths and professionals with career enhancing tips. For his support in developmental projects in the rural and inaccessible areas of the country Pemba is widely respected and recognized as people's person.
Author and Media Experience
Pemba has Co-Authored "The Summit" with fellow Irish Climber and a friend Pat Falvey accounting the events of 2008 K2 disaster in which 11 climbers perished. Subsequently after the K2 tragedy, he was interviewed by numerous media nationally and internationally leading to fame and many book writing as well as award winning Documentary Filming "The Summit" with him as a Technical Consultant and leading character. Despite the worldwide glory and fame Pemba remains humble and makes him accessible to everyone who seeks him for mentoring and advice for free.
Please Click Here to hear his Interviews.
Hobbies/ Interests
Mild nature and Soft Spoken Pemba loves to read books and travel besides Trekking, Climbing and Mountaineering. He is also a passionate educator. He's constantly pursuing and preaching the best and safest mountaineering practice in the industry while ensuring worldwide standards without leaving traditional roots. As such, he is keen in modernizing the practice and methods as well as to preserve old antiques. He also loves to give back to the community and country and puts social work at the top of his to-do-list despite his involvements in many training programs.
Awards and Accolades
Pemba has received some of the highest honors given to Mountaineers for their impacting contributions. Pemba has voluntarily contributed to numerous lifesaving rescue missions and rescued many climbers seeking adventure in the high mountains of Nepal risking his life while saving others. Among the highest honors are Bravery Award and Recognitions by the Goverrnment of Nepal, National Geographic Society, The David A. Sowles Memorial Award by American Alpine Club.
Pemba is married and happily lives with his spouse Da Jangmu Sherpa and two beautiful children Jigmey Dikey Sherpa (Daughter) and Kunga Tashi Sherpa (son)  in Kathmandu, Nepal.
Pemba is also a motivational speaker at various national and international events as well as seminars. He is available to speak for your events and functions upon request in various mountaineering topics. He is also available as a Technical Consulant for Documentary making, Filming and start up Mountaineering projects. Please contact Pemba at info@hcmsnepal.com.