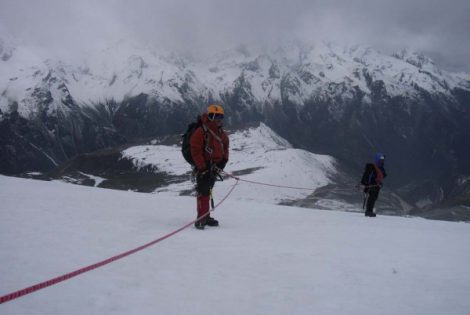 Langtang is located just north of Kathmandu valley making the travel and logistic movement easy. It is an area with unique climate from the lowland to the highland. The major peak in the area are Langtang Lirung (one of the most challenging 7000m peak), Shishapagma (the lowest among the 8000m peaks). There are numbers of 6000m and 5000m peaks famous for alpine training and technical trekking. Langtang is a very popular area explored by H.W. Tillman soon after Nepal was opened for trekking and mountaineering in the 1950s. It is also a very popular alpine destination for trekking, filming and photography. The Tamang Heritage Trail is famous for the diverse culture of the area that is home to mid hill ethnicity and Tibetans. Langtang was the preferred place for early settlers for its lush pasture lands abundant for cattle grazing.
Some of the mountains below 6000m offers best introductory climbing and mountaineering training platform. HCMS organizes two to three-weeks introductory climbing training in these apline peaks for the beginners, specially for the participants with time contsraints and tight travel schedule because of the proximity from Kathmandu valley.
HCMS works with small training group (max 7 participants) to ensure safe and effective training. Our guide/instructors highly professional.  knwoledgeable about local area and culture. They will also share their mountaineering experience with the participants with enthusiasm.
Himalayan Climbing & Mountaineering School (HCMS) Pvt. Ltd. © 2021. All rights reserved.