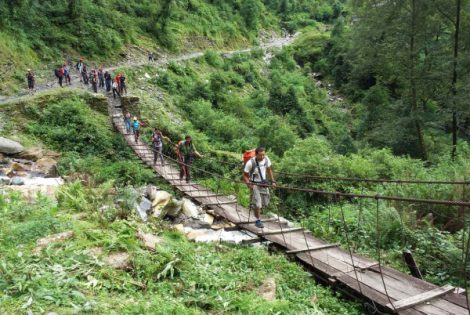 Hiking – Why everyone should do it?
HCMS promotes hiking at least once a week and on holidays. We recommend people of suitable age and different profession to hike and stay connected to the nature, stay healthy and fit. When people think about Hiking, they mostly think of nature, the great outdoors, a backpacking day trip, and a tented camp. For most people, hiking is an escape back to nature and a great way to get a good workout while forgetting all about the day to day hassles. Depending on the terrains and weather conditions, hiking demands certain specific skills, techniques, Gear and Equipment. Before starting a hike, hiker needs to get intrigued and well prepared to have a rewarding experience.
When we think of  hiking in Nepal, some of the most stunning landscapes are within the reach of an embrace. Hikers  can experience the variation of altitude in every step. The areas from the lowest  to the highest point is home to diverse group of people and culture, many unique animals, varieties of plants and trees, strange geography and manmade wonders such as temples and monasteries that reflects the harmony between different ethnicities. While on the trails, hikers are found in pollution free environment and a personal touch to the nature.
Lastly, Hiking is a natural exercise that promotes physical fitness, is economical and convenient, and requires no technical equipment like in most cases. Because the hiker can walk as far as he wants and comes to a complete stop at will. There is no physical stress unless the hiker walk in steep hills or mountains.  Is the word "Hiking"  derived from the word "adventure"?  Certainly not, but these two words combined to  give a realistic meaning of fun and joy one could possibly get out of their busy life.
HCMS organizes weekend hiking trip with opportunity to learn hiking techniques as well as safe walking in the outdoor while exploring the nature around Kathmandu Valley.