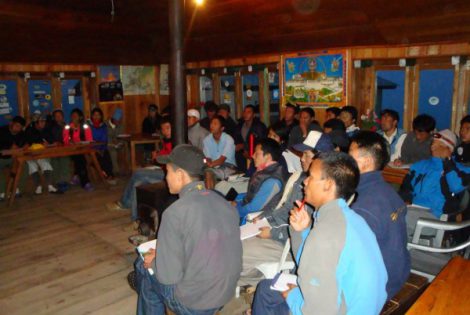 It is necessary to do monitoring and counselling for  trekking, climbing and mountaineering actitivities. Most of the Nepalese people think that trekking and moutaineering can be easilly organized without going through any formal training. They think climbing and mountaineering is only for those who have muscle but no brain. They consider and discard the human life as disposable goods without any value.  In fact, trekking, climbing and mountaineering is such a  core subject which requires both brain and muscle to organize professionally. The mountain workforce community in Nepal inculcates fear and sense  of insecurity in the minds of the young generation that climbing and mountaineering is not their choice of career.
In reality, trekking, climbing and mountaineering have vast scope as compared to other profesion. It earns both name and fame not only in the country but also at the international level. It has an ample opportunity to sustain in life financially. There are uncountable success and achievements one can gain educationally, economically and socially through these adventurous activities.
In the case  of old generation overseas trekking, climbing and mountaineering enthusiasts they go through extensive preparation before they set foot on mountains. But today's generation think money is everything. It is the money that helps them to organize any adventure activities. They think they don't give much priority to proper preparation. This is why trekking, climbing and mountaineering are becoming more challanging these days and the rate of mortality is on rise. Had the overseas adventure seekers gone through proper preparation and proper counselling, there would not have been any accedental occurence in the mountains.
If we are able to inspire the young generation for proper training and counselling on trekking, climbing and mountaineering activities, there will be the least chance of human error and accidental occurence. With proper counselling and training helps the young generation to work in spirit and build up profesinalism in trekking, climbing and mountaineering sector.
Considering the needs of trekkiing, climbing and mountaineering, HCMS is always committed to provide proper counselling and guidance to all those involving in the mountain adventure sector as well as in  the community.