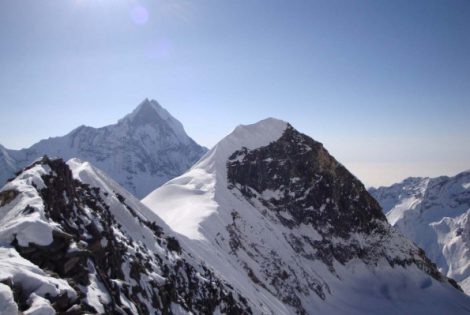 Annapurna is the junction of the Great Himalayas and the Trans Himalayas. There are numerous alpine peaks both north and south of Annapurna massif. The northside peaks around inner mountain valleys such as Chulu peak, Kangla Himal, Thorang peak, Muktinath Himal are certainly the best alpine training playground throuhout the year and in all season. In 1951, the french expedition led by Maurice Herzog scaled Annapurna I successfully making the first ever ascend to the summit of an 8000m peak. This opened the door in mountaineering and is considered the golden age of Himalayan mountaineering. The Annapurna mountains are also easily accessed as there are roads that connect to areas very close to the base camps of numerous mountains suitable for training.
Annapurna is located just north of Pokhara Valley,  a popular tourist destination in Nepal. The entire region is rich in natural beauty, diverse culture, history and heritage. There are many mountains ranging from 5000 – 6000m that offer best introductory climbing and mountaineering training platform. Training can also be organized at the base of Annapurna massif. HCMS organizes two to three-weeks introductory climbing training in these apline peaks for the beginners.
HCMS works with small training group (max 7 participants) to ensure safe and effective training. Our guide/instructors highly professional, knowledgeable about local area and culture. They will also share their mountaineering experience with the participants with enthusiasm.
Himalayan Climbing & Mountaineering School (HCMS) Pvt. Ltd. © 2021. All rights reserved.