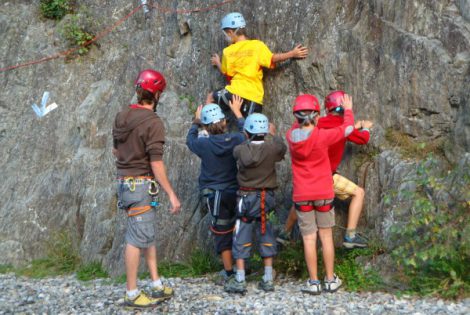 Nepal's mountaineering community has seen progressive changes since the first ascent of Everest by Sir Edmund Hillary and Tenzing Norgay. In Nepal there are several institutions that organize professional training in Trekking, Mountaineering and Climbing several times a year and these trainings are time-specific. Also, there is a long wait and less flexibility in such trainings despite strong demands as more and more individuals, both professionals and fun-seeking adventurers are showing keen interest. There is a huge gap that needs to be filled in order to meet the increasing training demand, both new and refresher courses.
Until the establishment of Himalayan Climbing and Mountaineering School (HCMS), there were no private schools and institutions opened to carry out professional, vocational and recreational trainings. Recognizing the immediate need of such institutions to facilitate the requirements of common men, women and kids, Pemba Gyalje Sherpa, a veteran Mountain Guide after a long and careful research on the specific mountaineering needs made the decision to establish HCMS in Kathmandu. At HCMS, participants can take tailor-made short term training courses for diverse Mountaineering activities i.e.,  sports climbing and ideal trekking know-how.
Himalayan Climbing and Mountaineering School (HCMS) was established in June 2016 and promoted by Pemba Gyalge Sherpa to specifically bridge the gap and provide continuous learning opportunity to those who seek to reinforce their skills as well as those who drop out due to time constraints or personal reason. We live in a very busy world with multiple jobs, schools and endless work which does not allow to those who seek adventure in the Mountains to participate in training activities due to their own busy schedule. Therefore, at HCMS, we have designed training programs that suit individual interest which meet specific requirement to start career in Mountain Tourism as Trekker, Climber, Mountaineer and Rescuer. Our institution also offers to Mountaineering Sport Professionals for recreational adventure and aspiring career professional guides. Himalayan Climbing and Mountaineering School values training that incorporates education, awareness, moral values, ethics, social responsibility and importantly, activities where the participants can enjoy the entire trainings. We believe that the participants would be excited, curious and have full of fun while learning through interactions with instructors amidst nature. Therefore, HCMS is the one-stop solution for  Mountain Enthusiasts.
Himalayan Climbing and Mountaineering School (HCMS), an institution founded by Pemba Gyalje Sherpa is the first Private Climbing and Mountaineering School with an aim to fill the educational vacuum as a quality institution focused on producing torch bearing leaders who can represent Nepal. At HCMS, Pemba's dedication, knowledge and experience will transform participants with high quality training and mentoring to strengthen and enhance their career building capacity. We will reinforce them with pragmatic approach and practical methods. HCMS mantra is to ensure each and every individual is qualified, safe, happy and proud as professional Trekking guides, Mountain guides, Rescuers and Sport Climbers.  At HCMS, ideas and thoughts will be molded into creativity for making impacts in Mountain Tourism.
HCMS is your one stop solution whether you come as a beginner or want a refresher course to revive the skills forgotten from past training. If you think you are not in proper physical shape or don't have qualities of a trekker or mountaineer, we recommend you to visit our office for consultation. We will be happy to counsel you with words of encouragement and share the benefits of experiencing nature as a hiker or thrill-seeking adventure climber. Just because you have not done it, we don't want you to deprive yourself  from the great opportunity to embrace the beautiful mountains up close, which you see from the balcony of your house, wherever you live in Nepal.