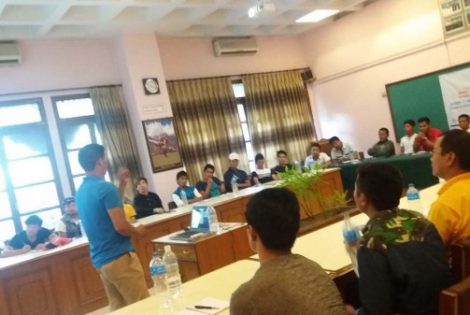 Nepalese Mountaineering Tourism is still in a state of infancy especially if one compares it to the norms and cultures of mountaineering as practiced in more developed parts of the world. We believe there is a clear need to provide motivation sessions given the extensive changes of the last ten years and these must be accessible to all levels of industry professionals. For improvements to be successfully implemented, support must be offered not just to company owners and managers, but equally also to employees who work in less visible roles and perhaps most crucially for guides, those who of course directly interact so much with visitors. Our training techniques and methods incorporate a proactive and pragmatic approach whilst also emphasising the importance of ongoing programs of learning to allow for the necessary upgrade of skills and information.
Nepal's Mountaineering industry and its professionals often get discouraged after tragic events and Acts of God such as the September 2012 Manaslu Avalanche, the April 2014 Khumbu Icefall Avalanche, the October 2014 Annapurna Region Snowstorm and most recently the April 2015 Earthquake and subsequent avalanches in Everest Base Camp and Langtang, all of which incurred a large number of human fatalities. Such events naturally cause concern and it has been observed that this could lead to a shortage of suitably experienced industry professionals, some of whom might choose less rewarding professions if appropriate advice, guidance and counseling is not available. The above tragic events have also meant that the image of Mountaineering Tourism is frequently associated with fear and insecurities among both aspiring guides as well as some experienced professionals. This clearly hurts the prospects of Mountaineering Tourism. Having witnessed first-hand and identified such trends in recent years, HCMS is very concerned by this situation and deeply cares about the well-being of these individuals who have chosen careers as specialist guides leading clients in trekking and climbing expeditions.
With access to world-class experts in Mountaineering as well as energetic and inspirational motivational speakers, HCMS organizes a series of motivational lecture programs which are open to all those connected to or simply interested in the industry, such as mountaineering professionals, climbing guides and also amateur enthusiasts. These programs have been carefully designed to uplift your spirits and equip you with valuable information about the Mountaineering Tourism industry. They will also tackle fascinating topics as the lecturers share with you their own expertise and experiences of coping with the toughest of challenges, both expected and unexpected, that are found at the highest of altitudes.
Himalayan Climbing & Mountaineering School (HCMS) Pvt. Ltd. © 2021. All rights reserved.