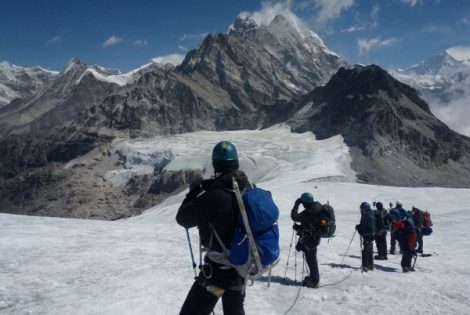 Mera peak is located southeast of Mt. Everest and the Massif is between Hinku and Hongu Valley. It is the 2nd popular trekking peak in Nepal because of the breathtaking 360 degree view inclduing five 8000m peaks as well as several 7000 and 6000m peaks from the top (6470m). It was first ascended in 1953 by J.O.M. Roberts and Sen Tenzing.
Compare to Khumbu, Langtang and Annapurna, the infrastructure en route is still developing however it is an incredbile opportunity for training away from permanent settlements and in complete wilderness. This is where participants can enjoy training environment with virtually no interference or presence of an outsider. In Mera peak, HCMS organizes three weeks advanced level training in Mountaineering. HCMS focuses corely for preparing participants who have 7000m mountain in their future climbing wishlist.
HCMS works with small training group (max 7 participants) to ensure safe and effective training. Our guide/instructors highly professional, knowledgeable about local area and culture. They will also share their mountaineering experience with the participants with enthusiasm.
Himalayan Climbing & Mountaineering School (HCMS) Pvt. Ltd. © 2021. All rights reserved.