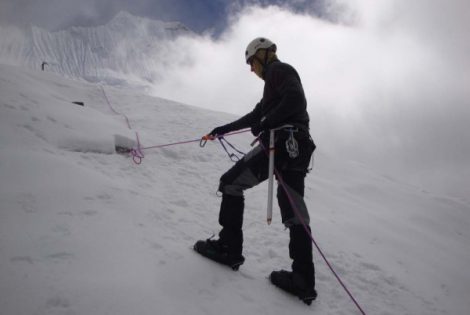 The mountains in Khumbu region are the most coveted by alpinists all over the world. This area is home to the highest peak in the world and several beautiful technical and non technical alpine peaks around Mt. Everest. It is also one of the best trekking area in the world. Some of the mountains below 6000m offers best introductory climbing and mountaineering training platform. HCMS organizes three-weeks introductory climbing training in these apline peaks for the beginners.
Training in Khumbu is a gratifying experience because of the presence of several popular peaks in and around the area traversed by some of the world famous mountaineers. Since the mountains are within close proximity from the human settlements, participants can experience and feel the local cultures amid rejuvenated energy. These below 6000m peaks are safe and suitable for climbers who are weary about high altitude with time to acclimatize en route to the mountains for the training. Besides honing their technical skills, participants will also be able to evaluate and test their endurance and ability to adopt in high altitude environment. This will help them prepare better for future climbing endeavors.
HCMS works with small training group (max 7 participants) to ensure safe and effective training. Our guide/instructors highly professional.  knwoledgeable about local area and culture. They will also share their mountaineering experience with the participants with enthusiasm.
Himalayan Climbing & Mountaineering School (HCMS) Pvt. Ltd. © 2021. All rights reserved.