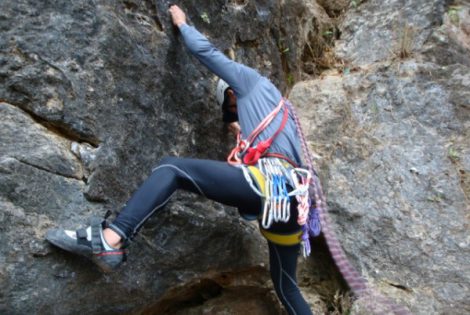 Advance rock climbing course is given to those who are modaretely experienced in rock climbing activity to allevate their advance skills and learn modern technique. This training will last for two weeks especially at outdoor site.
In the training we practise all types of bellay and anchor, advance rock climbing technique, important rope and knot handling, rock climbing grading, types of rocks formation and lead climbing technique.
According to  HCMS rock climbing training standard we take admission only for 10 participants at one training group. Ratio of instructor and trainee will be 1: 3.
Anyone interested in joining this course may apply online or physically visit HCMS office at Barah Marg, Dhumbarahi 4-Kathmandu during office hours (10am to 4pm) except Saturday and Government holidays.
Rock Climbing Sites in Nepal 
Rock climbing in Kathmandy valley – There are several artificial sport climbing center in Kathmandu valley such as Pasang Lhamu sport climbing center at Dhumbarahi, Balaju sport climbing center Balaju industrial area, Astrek sport climbing center Thamel and NMA sport climbing center Kakani just north west of Kathmandu one hour drive form city. As well as well equipped natural rock climbing cliff arround Kathmandu valley hills such as  Chiple and rato paharo at Farping south from Kathmandu just one hour drive.  Raniban cliff Shivapuri Nagarjun national park area west from Kathmandu valley just 20 minutes drive.
Rock climbing in Everest region –  In Khumbu there are several equipped natural rock climbing spot such as rock climbing site in Lukla the  gate way of Mt. Everest, Khumjung rock climbing site, Thamo rock climbing site and Thame rock climbing site.
Rock climbing in Bimal Nagar Tanahu – There is several well equipped multipitch rock climbing route in Bimal Nagar, Tanahu just 70km west from Kathmandu toward Bandipur most popular tourist distination of Nepal.
Rock climbing in Pokhara valley – Pokahra is the most popular tourist district of Nepal. There is NMA sport climbing and bouldering center at International Mountain Museum. As well as Three sister natural rock climbing center 30 minutes walk from Lake side.