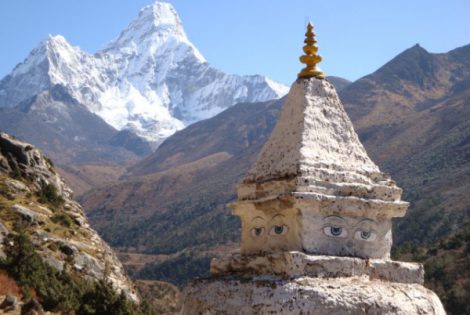 I have been blessed with opportunities to travel, learn and exchange ideas throughout my life. For more than 20 years, I have been very active as a responsible guide, instructor and mentor individually and through collaboration with few Association having vested interest in Trekking, Climbing and Mountaineering. A lot of these programs and courses are really good but limited. In order to be good and produce quality manpower, there is a need of institution that not only puts continuous effort but also is able to work with individual need with flexible scheduling. Therefore, Himalayan Climbing and Mountaineering School (HCMS) is an important platform to bring intellectuals and experts alike and share my own knowledge, experience and exposure without limitations for continuous learning and development.
Most businesses are profit oriented and it is natural for everyone to seek growth. HCMS is no different but while seeking growth, we ensure steady progress in Health, Safety and well-being of our course participants and staffs at highest level. For trekkers, climbers and mountaineers, nature is the biggest classroom and everyone has to cope with environmental changes. We want our staffs and participants to leave positive impression with people and places with programs and courses that are environment friendly.
The world of modern mountaineering is more different than it was in past. Equipment and techniques have improved significantly in recent years. More and more people are now able to engage in the mountains contributing to socio-economic changes. Communities prosper and people who are engaged in trekking, indoor & outdoor climbing and mountaineering activities enjoy long term health benefit as and remain socially active. The rise in mountain tourism has radically changed the lives of people in the mountains, mostly in the Himalayas as they are able to enjoy healthy urban lifestyle with rising income and social status. The kids are growing away from their ancestral village and losing real mountain values and culture and as a Sherpa living in the city, I can see that is happening in our communities.
Himalayan Climbing and Mountaineering School will work hard to restore the forgotten values and culture by raising awareness through courses, dialogues and debates. It is a personal and professional goal for me and I am working hard to improve and elevate the standards in high altitude climbing as well as to restore the identity of mountain values and culture. I have no intention to rest or retire until I see the positive changes. The HCMS trainers and staffs have what it takes to be the best and will expose the best out of all participants.
Himalayan Climbing & Mountaineering School (HCMS) Pvt. Ltd. © 2021. All rights reserved.