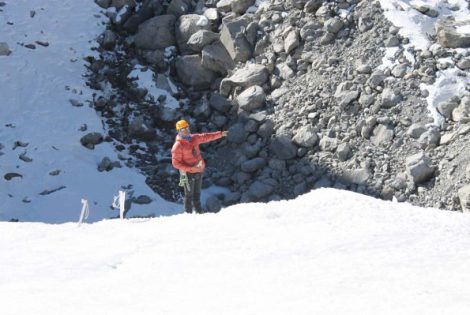 Ramdung Peak is a popular trekking peak in the Rolwaling mountain range. Rolwaling mountains are located just west of Mt. Everest and is home of several popular 7000m peaks such as revered Mt. Gaurishankar, Mt. Melungtse etc. Rolwaling area was first explored in 1951 by Eric Shipton, who was leading an expediton to Everest and followed the trail via Tashi Lapcha pass, a famous mountain pass in between the Khumbu and Rolwaling Mountains. Rolwaling area is where the first footprint of "Yeti" was seen by Eric himself and the whole world followed the incredible yeti story. Many visitors hope for a lucky encounter with an Yeti while in Rolwaling Area. The area provides good platform for advance level training in mountaineering. HCMS organizes 2-3 weeks training in Rolwaling.
HCMS works with small training group (max 7 participants) to ensure safe and effective training. Our guide/instructors highly professional, knowledgeable about local area and culture. They will also share their mountaineering experience with the participants with enthusiasm.
Himalayan Climbing & Mountaineering School (HCMS) Pvt. Ltd. © 2021. All rights reserved.