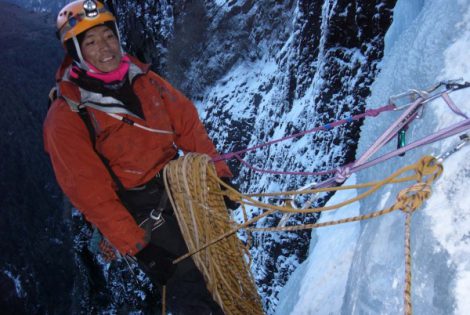 Khumbu region is not only popular for trekking and mountaineering but also one of the best area for winter ice climbing. Ice Climbing training is indespensable for aspiring mountaineers. It has become popular winter activity in Nepal during and after the training these days. Besides professional mountaineers, outdoor enthusiasts can also train and engage in ice climbing just like rock climbing. The frozen waterfall during winter season offers good ice for climbing training and there are plenty of such waterfalls in the Khumbu region around 4000m. One of the longest frozen waterfall ice Kwande Waterwall is also located in Khumbu.
HCMS organizes beginner and advance level one week ice climbing training in Khumbu region. In order to ensure safety of the participants, HCMS will select locations conducive for safe and effective training. It is a technical climbing activity and participants learn different set of technical skills while ice climbing. It is also a good winter activity to inspire amteur climbers and outdoor enthusiasts.
Participants can reside comfortably in a local house or lodges while participating in ice climbing activities in Khumbu. It saves time because there is no requirement for long and multi days hiking to reach the Ice Climbing location.
Himalayan Climbing & Mountaineering School (HCMS) Pvt. Ltd. © 2021. All rights reserved.